Chips are my weakness.  (One of my many food formulas to happiness…Salt + Crunch = Satisfaction)  In my pre-Dukan life, my chip binges were debaucherous to say the least.  My top go-to's were Old Dutch Ketchup Potato Chips, Ruffles All Dressed Potato Chips and Miss Vicky's Black Pepper and Lime.  (Is my passion so strong they even require italic emphasis?)
It's been a little more than a month now and though I'm very proud of the self-discipline I've exhibited so far, as I'm nearing the end of the Cruise phase (oh will Consolidation ever come!!!), I'm starting to get desperate…
Exhibit A:  Homemade Baked Potato Chips — A standard staple.  What I've learned from Dukan is to put away the Heluva and have it with fat-free sour cream mixed with herbs and garlic.
Exhibit B:  Sweet Potato Chips
Exhibit C:  Maple Chipotle Kale Chips
Exhibit D:  Fry Free Beet Chips
Exhibit E:  Eggplant Chips with Cilantro Pesto
Exhibit F:  Baked Banana Chips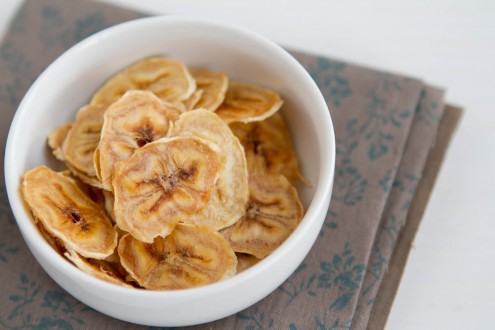 Exhibit G:  Cinnamon Sugar Apple Chips — Although I love all-things apple, these first caught my eye because I thought they were ketchup chips!
Exhibit H:  Cinnamon Sugar Radish Chips — I also thought these were ketchup.  Pleasantly surprised.
Exhibit I:  Truffled Peruvian Purple Potato Chips — With a glass of bubbly!